SOUTHERN DISTILLING BOURBON UNIVERSE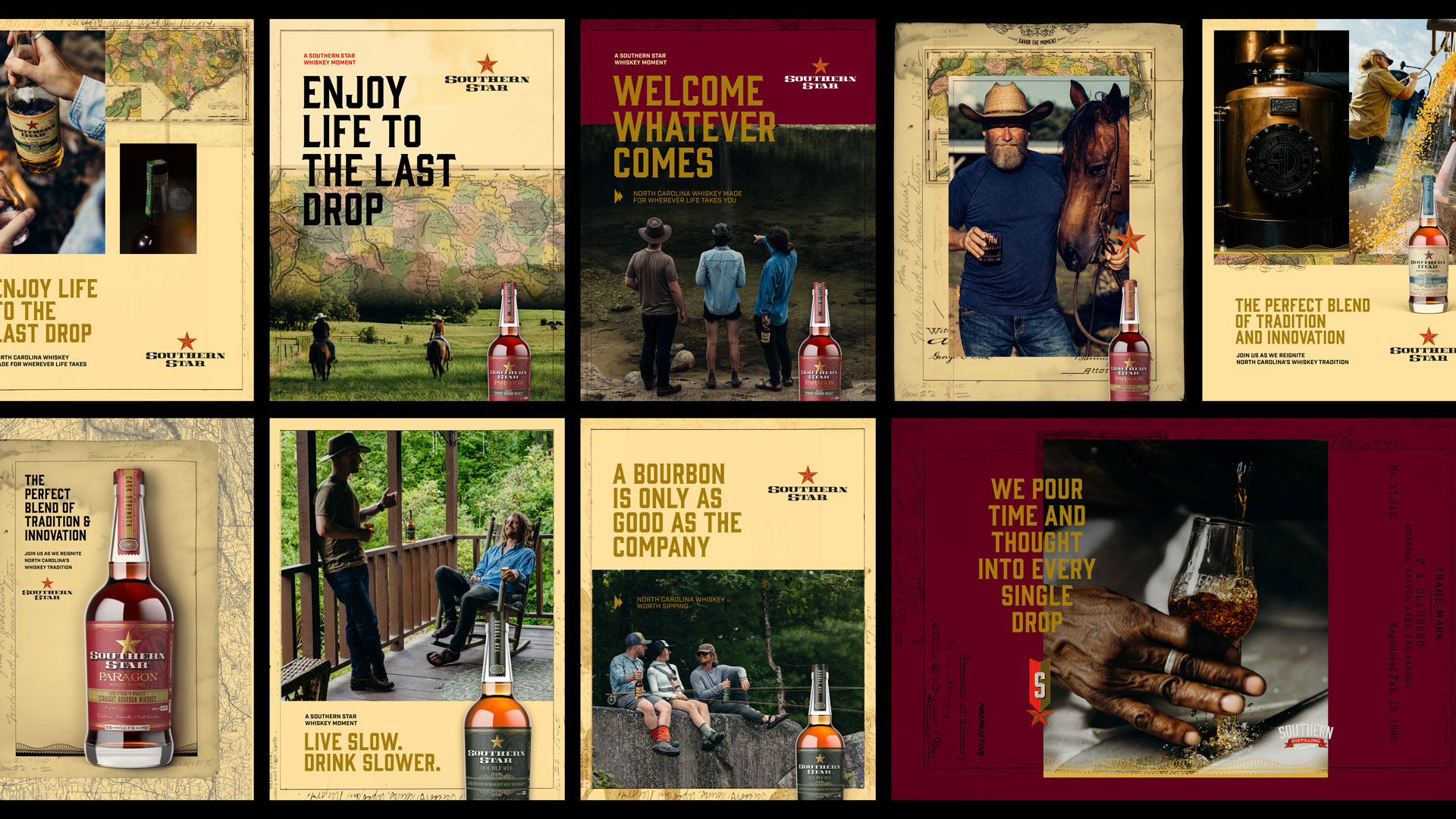 Build The Foundation
Find the brand truths

Articulate The Story

Authenticate The Brand
Create The Tools
Build the library

Establish the rules

Build The Tool-kit
Tell The World
Brand expression

Content Creation

Consumer Brand Campaign
Every so often, a project comes along that gives you the chance to do something really special. Southern Distilling Company was one such opportunity. The moment I stepped into the Statesville NC distillery, I knew these folks were doing something unique. 
Southern Distilling needed the tools necessary to tell their story. Over the course of one year, we built the those tools, as well as an established growth plan for the brand.
Establishing Creative Direction
"Modern Folklore" became the brand's high level creative direction and our jumping off point. I established this direction after spending time in Statesville and articulating what it really feels like to be there.
This direction brings to life simple moments, slowing down and sipping bourbon on the front porch.


Additionally, it recognizes the hard work and grit that earned those bourbon moments.


I saw it with my own eyes while visiting Statesville NC, a town where you roll up your sleeves and you make your way. 


Our creative approach visually leaned into the textures of the South, the flora and fauna, and the tactile aspects of Americana that are frozen in time in this small town.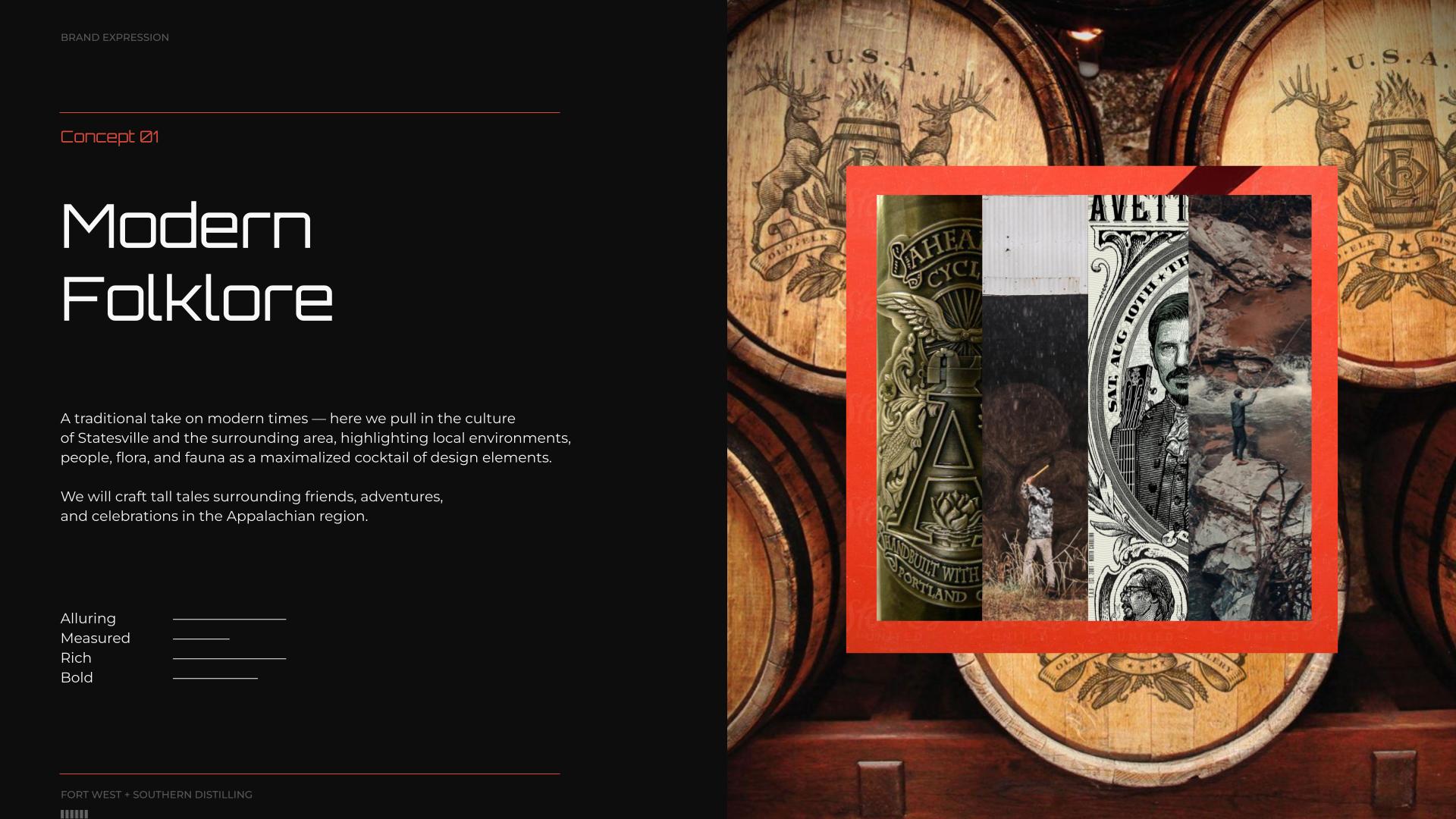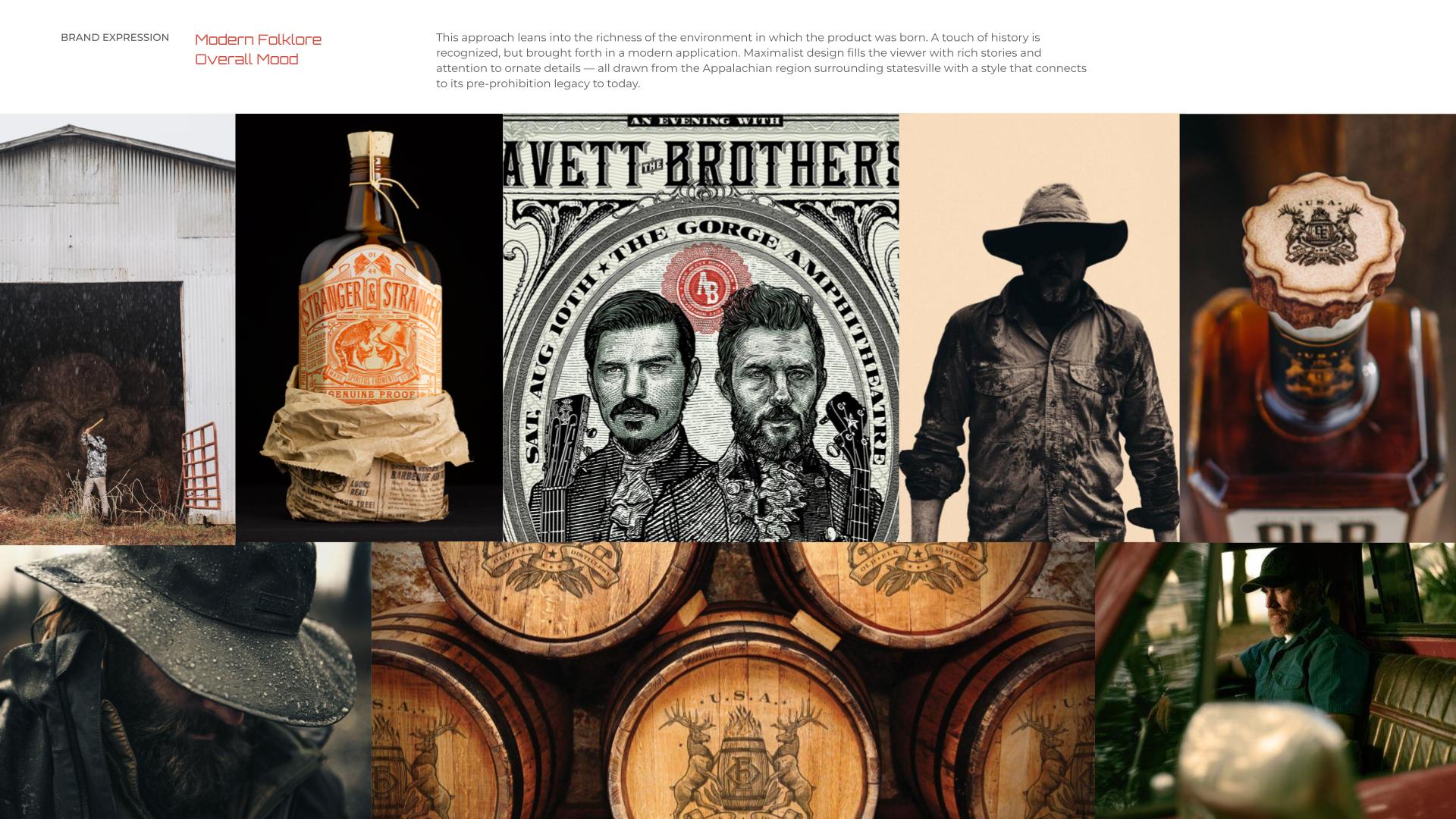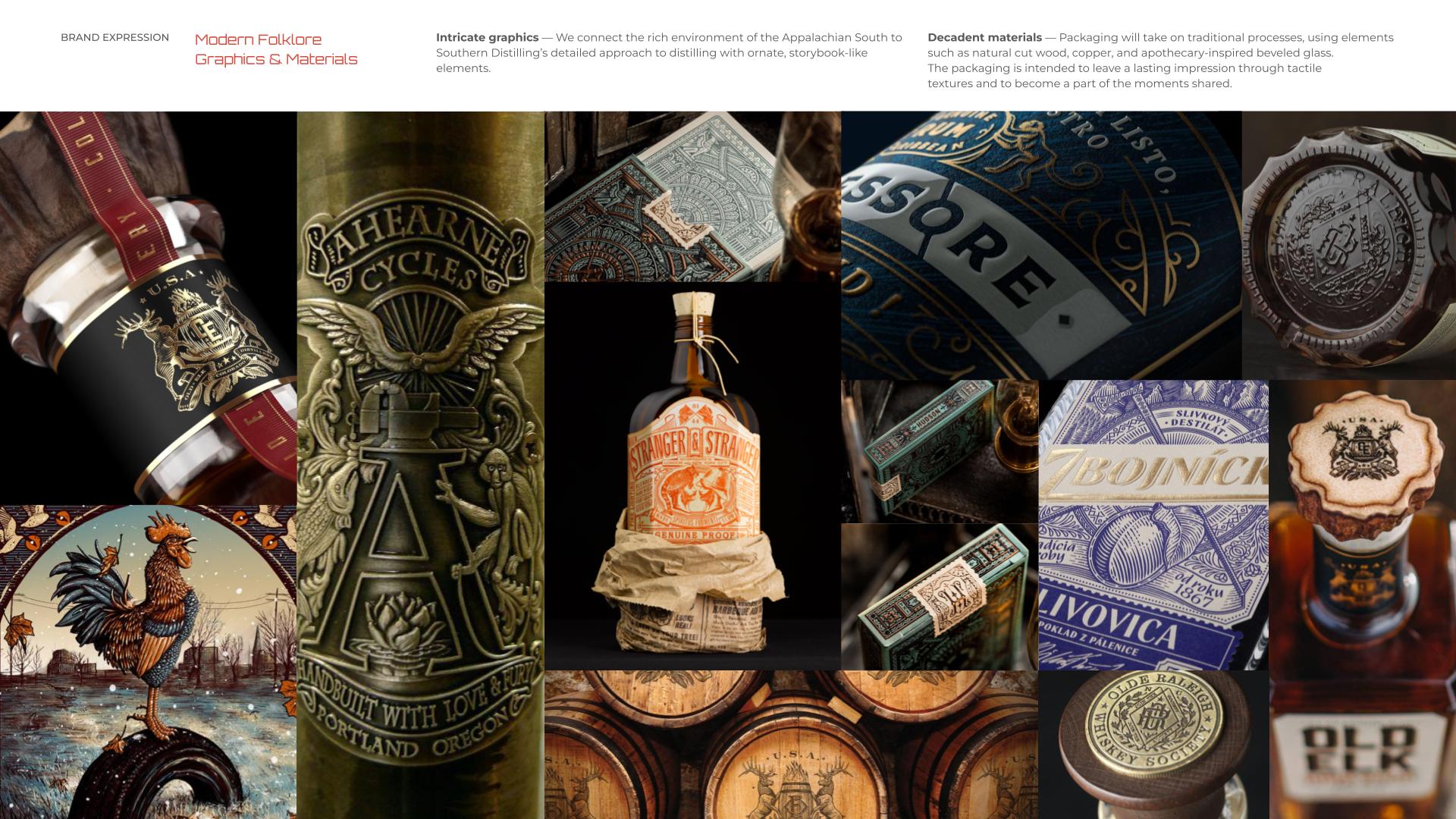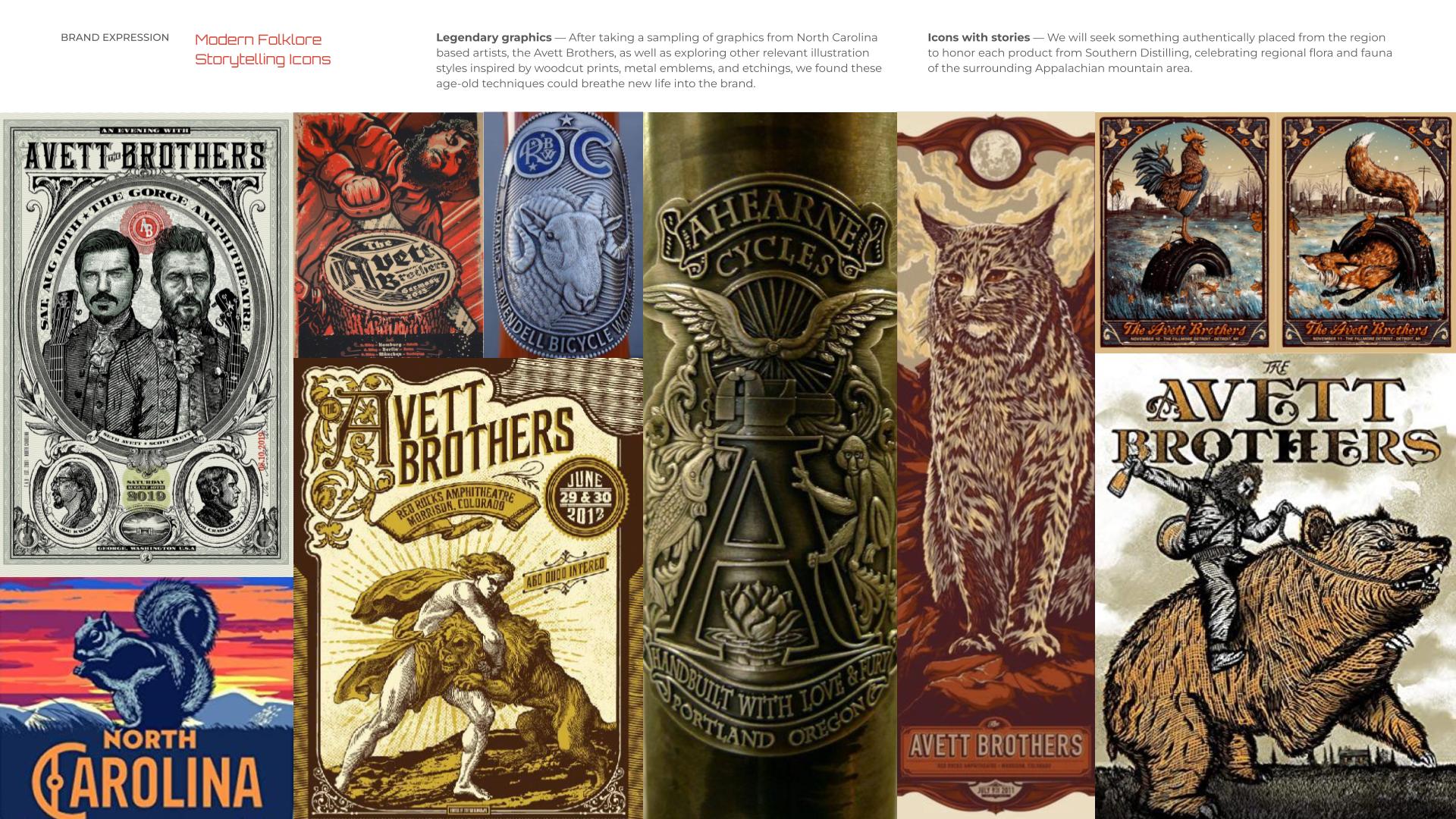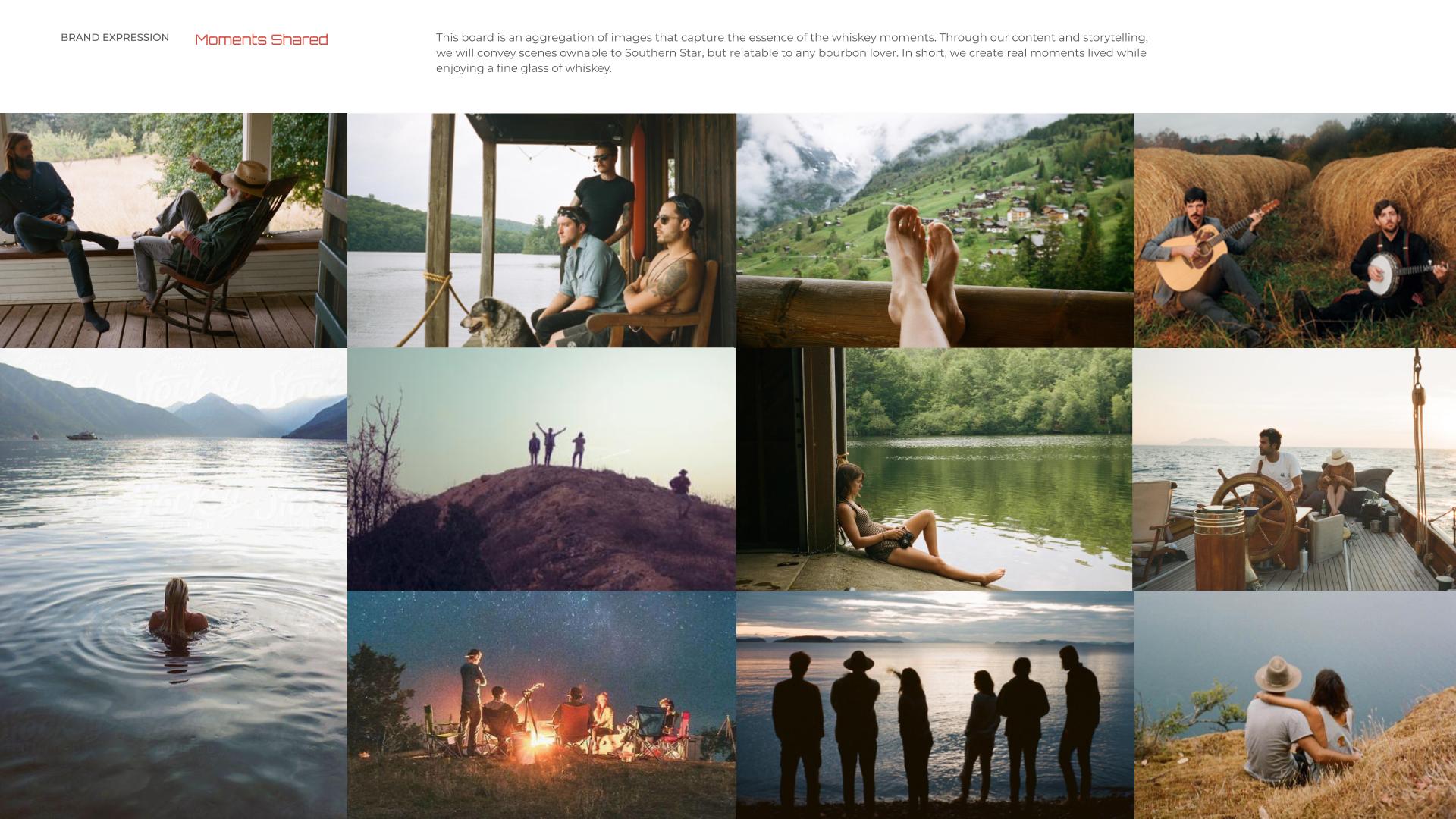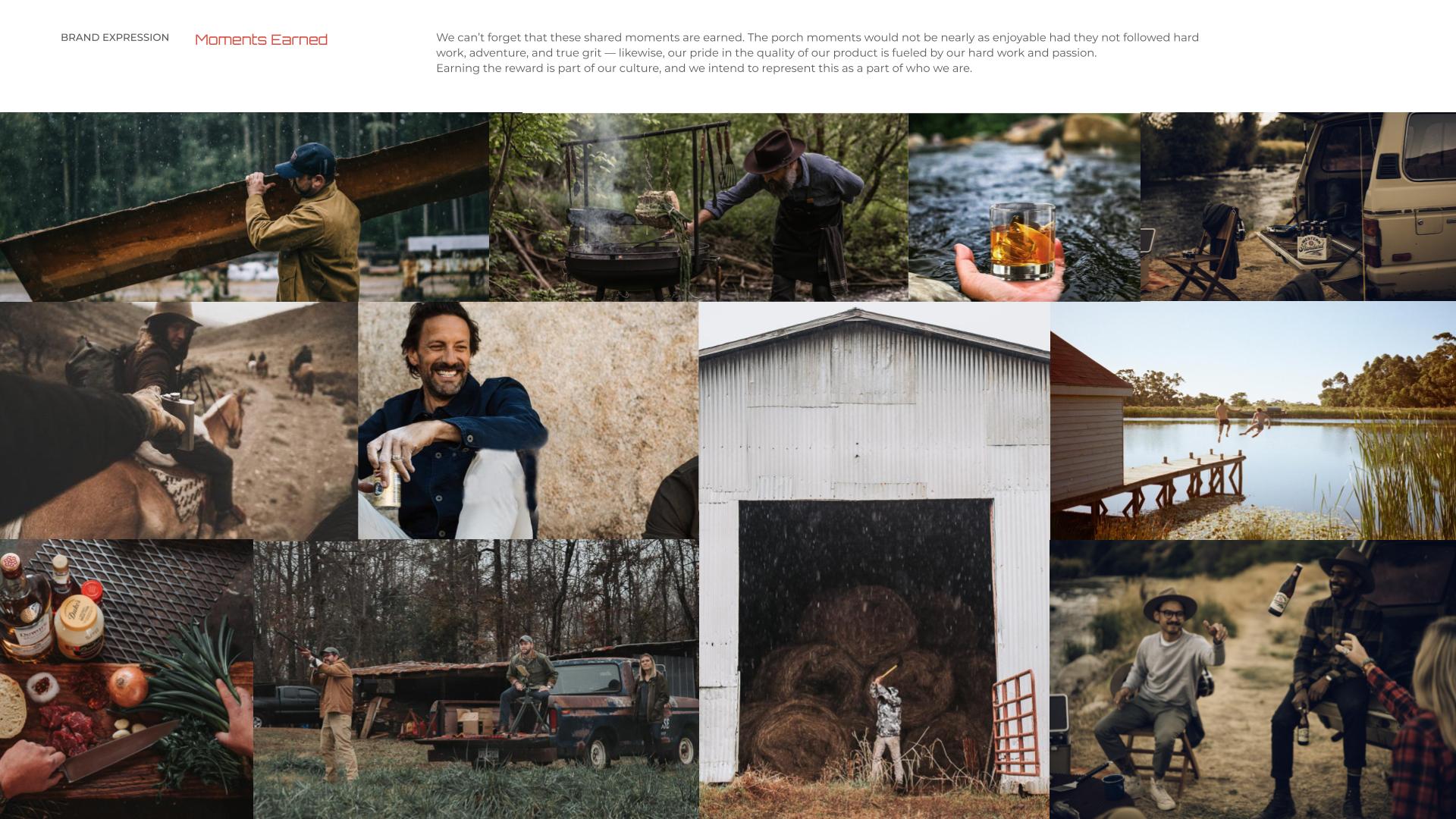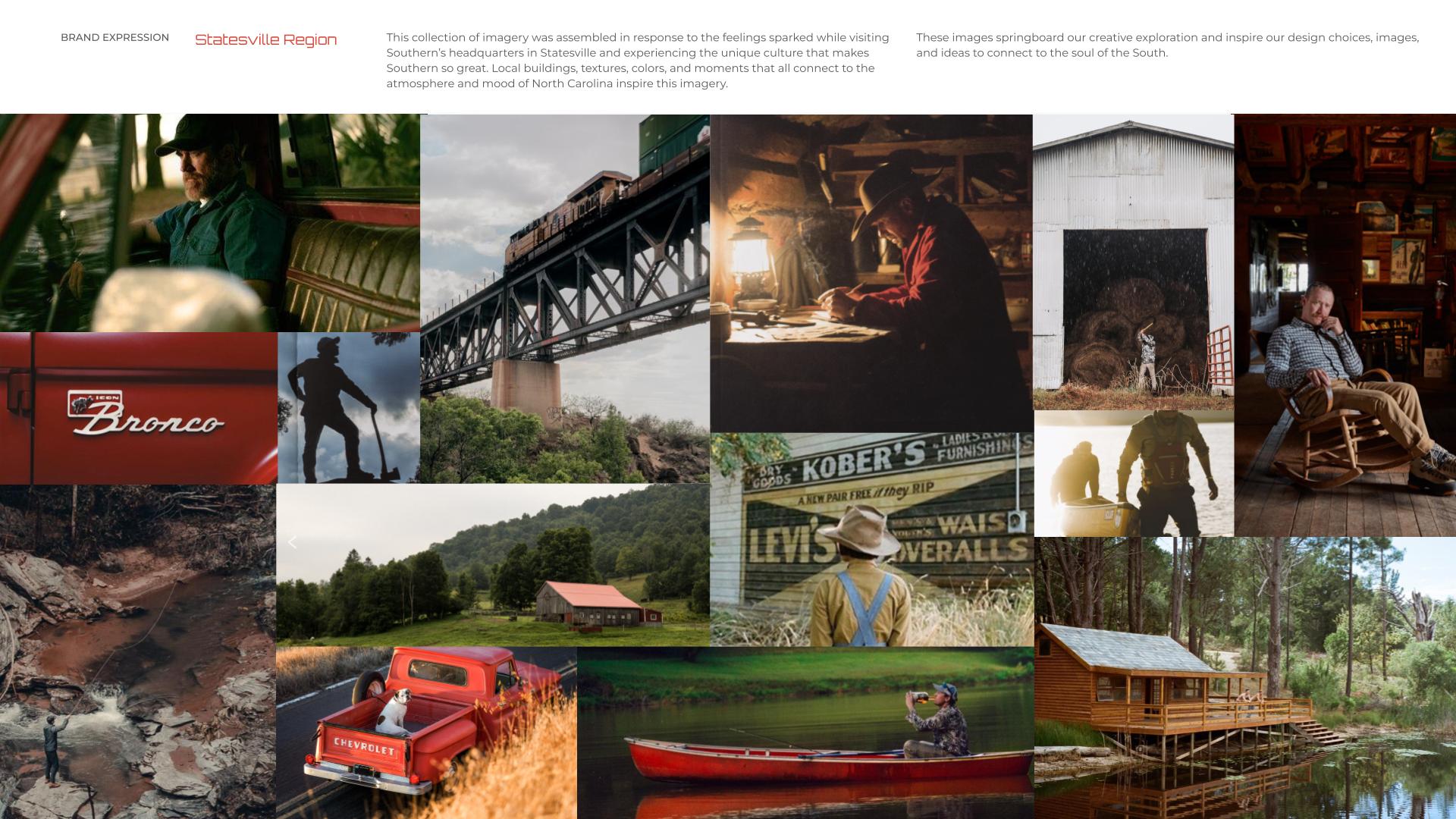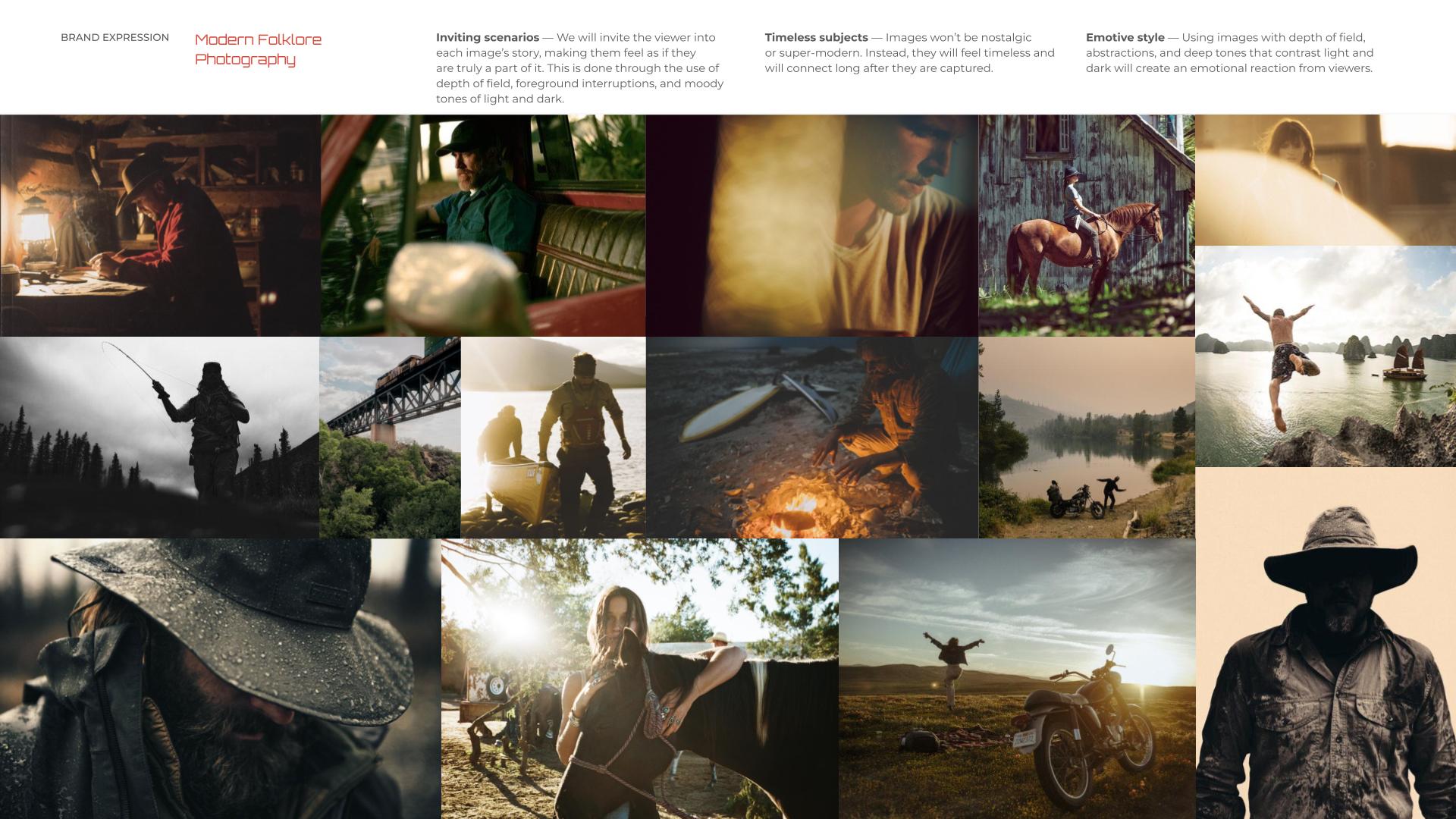 Bringing "Modern Folklore" To Life
True authenticity does the heavy lifting. True authenticity can not be faked.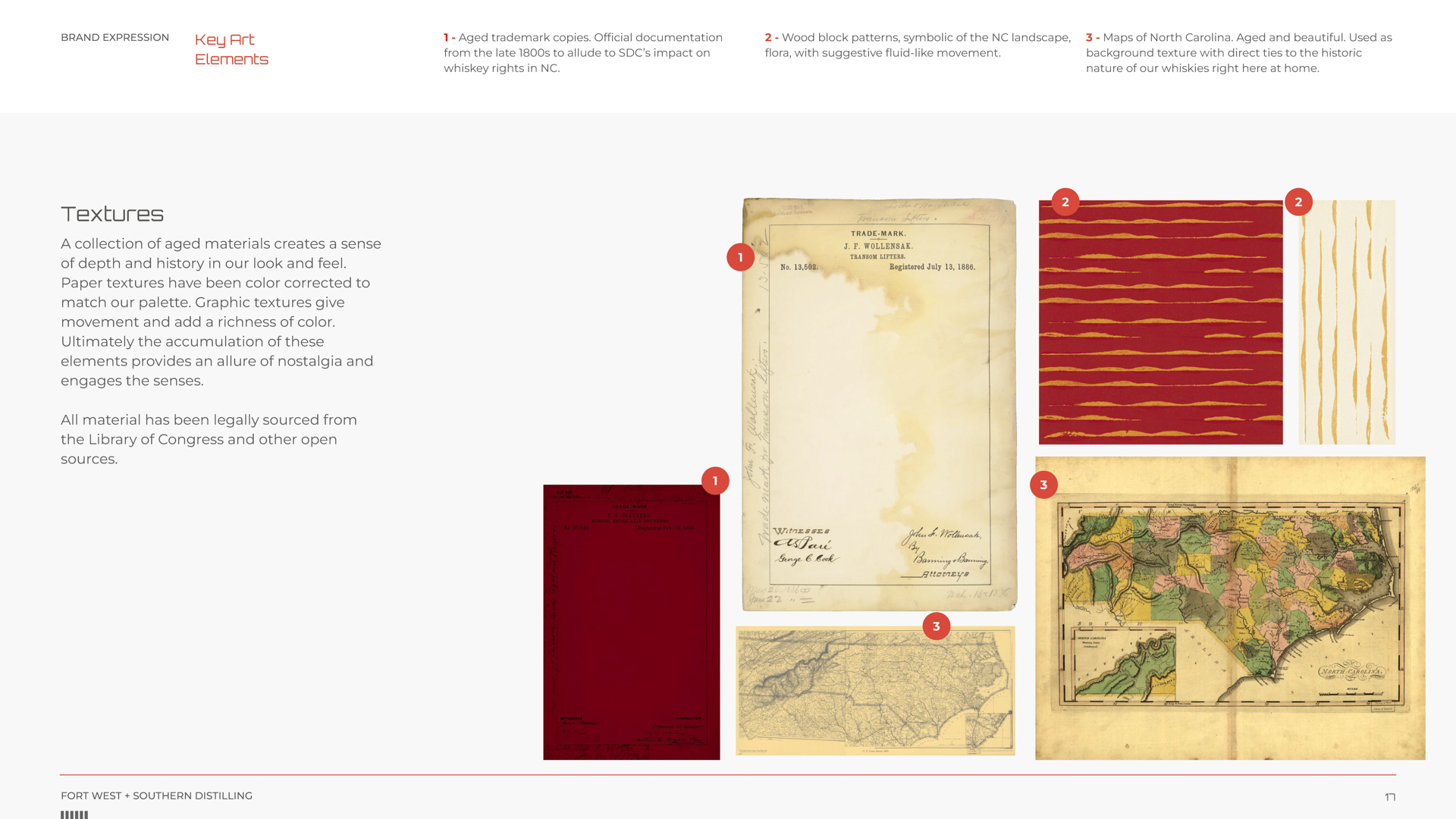 Drawing from history and doing our best to stretch a small budget, we utilized public domain to assemble a graphic tool-kit that has real meaning and supports the true story of Statesville's Bourbon history.
Statesville has a long history of Bourbon and pre-prohibition, it was once known as the Bourbon capital of the world. Over time, Kentucky had taken that title, until Pete and Vienna Barger came along to reignite that Statesville Bourbon flame with their creation of Southern Distilling Company.
Content Creation
While Southern is growing quickly, they are still a startup with modest budgets, requiring a DIY approach.

Luckily, I'm no stranger to producing high quality output in the scrappiest ways possible.
As with any of my brand projects, I strive to establish a photography style and creative approach that is true to the brand.


I ask myself, "could this visual be interchangeable with someone else's logo?"


In the case of Southern, the aesthetic needed to evoke the feeling of being there.
I knew I needed to spend some time with Southern in order to get it right. 


Wearing the hat of the Creative Director, Art Director, and Producer, I immersed myself for a solid week of jam packed days in North Carolina, living the Southern Distilling life. 


This deck exemplifies my general approach to planning and executing this shoot.
MADE FOR THIS - Consumer Focused Campaign
The final piece of the puzzle was bringing all of the work to life in a consumer focused campaign.
With "Savor The Moment" as the brand promise and "Proudly Reigniting North Carolina's Whiskey Tradition" as a a their internal position, we needed a consumer facing tagline that said it all.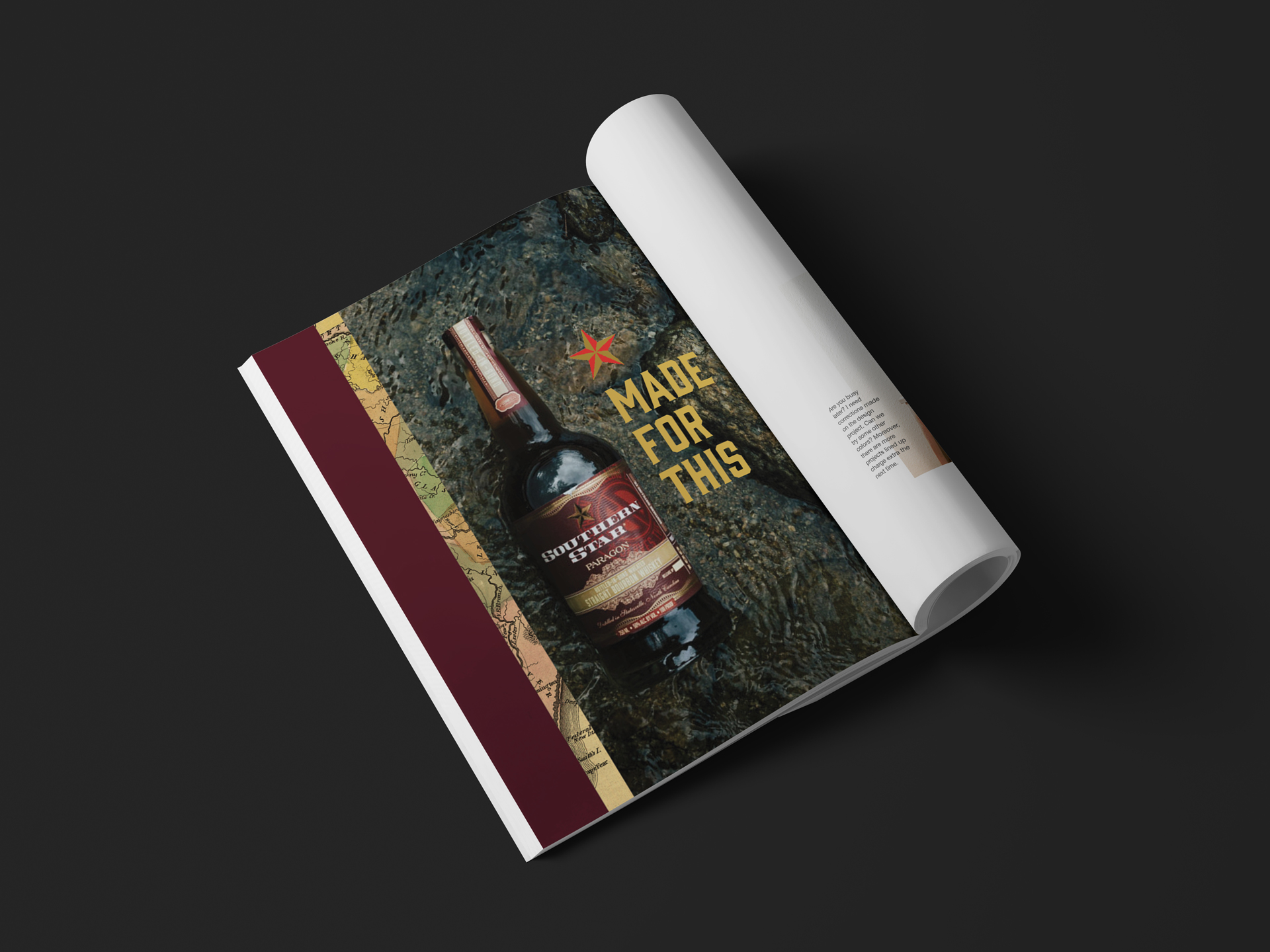 "Made For This" kicked off Southern's external growth marketing initiative for 2022.


All advertising led back to the new website we had created and followed a targeted media plan we had carefully crafted to grow this brand. 


The new world we built for Southern Distilling positions them as a premium brand and sets them up for smart and stable growth with a strong foundational brand system.
Campaign Direction
CD - Rob Brooks

ACD Copy + Tagline - Chase Stevens

Designer - Andrew Langford
Overall Brand Direction
Feature...Brand Foundation + Brand Character + Strategic Target - Courtney Catterton

CD - Rob Brooks

Designer - Andrew Langford
Content
CD/AD - Rob Brooks

Photographer - Paul King
Tool Kit Creation
CD - Rob Brooks

Designer - Andrew Langford
Website Design/UX
Site Design ACD - Ryan Doggendorf

UX - Ryan Doggendor + Courtney Catterton

Copy - Chase Stevens

Feature...CD - Rob Brooks